This post was originally posted in May, 2011 as Easy Reputation Monitoring. That post was deleted when I pruned my blog content in September 2018. A client had asked me if I still had, so here it is as it was originally posted.
Visit: Google Alerts.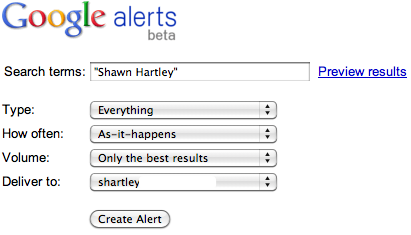 Enter your search term in the box. In this example, I'm searching on my full name, so wrap it in double quotes to search as a phrase. Set it to Everything, As-It-Happens, Only the best results, and delivery to your email address (or to a feed reader if you prefer).
You can add multiple alerts for different search terms to give you a social media dashboard of sorts. My preference is to use search terms to query the real-time web (Twitter & Facebook) such as:
"shawn hartley" +site:twitter.com
"shawn hartley" +site:facebook.com
"shawn hartley" +site:linkedin.com
You can also use Google Alerts to monitor your website for intrusions/hacks/defacements. Set your search term for popular spam terms and use OR operators to combine multiples terms in one alert:
viagra OR poker OR porn +site:yourdomain.com
Looking for an invite code to the hot new web application beta that all the cool people are in? Monitor their invite code releases, then take their typical language and turn it in to an alert (SuperSocial  being a fictional hot web app – or is it) and set the notification to as it happens:
SuperSocial beta invite code
Stay tuned for more monitoring tips for your manage your social media presence and craft a nifty social media monitoring platform with free tools.