I guest authored an issue of a paid email newsletter a while back called Hungry for Gumbo.
The idea behind Hungry for Gumbo from David is, "I share ideas about writing, work, art, film, food, drink, place, politics and other items of interest to the group." Group membership is established at the rate of $1/month – clearly one of the best deals out there.
This past week, I took a turn in the kitchen and penned a guest edition. I would suggest emailing David from the Hungry For Gumbo site [4/14/17 note, this newsletter ended, and I removed the link] to get a sample edition, or sign up for $1/month to get the most recent issue.
To give you a tease, here are a few select items from my guest issue:
iPad App Recommendation
The world has been overtaken by Angry Birds, but there are many games in the AppStore with similarly addictive game play. Bike Baron is right there in the mix. You control the Baron on his motorcycle via throttle, brakes and weight shift to navigate the obstacles. Currently $0.99 in the iTunes store. There are also a couple skateboarding apps my kids have been playing with.
Suggested Cocktail
Corpse Reviver #2
1 oz Gin
1 oz Cointreau
1 oz Lillet Blanc
1 oz Fresh Lemon Juice
1 dash Absinthe
Shake all ingredients in a shaker, strain into a chilled glass and garnish with a black or sweet cherry.
Discovered at the Esquire Tavern, San Antonio.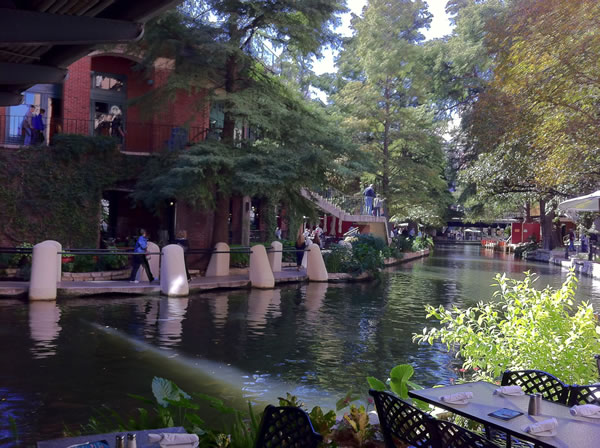 Photo of the Week

Terri and I took a nice trip to San Antonio last weekend.
Random Factoids
If you have 3 quarters, 4 dimes, and 4 pennies, you have $1.19. You also have the largest amount of money in coins without being able to make change for a dollar.
The word "nerd" was first coined by Dr. Seuss in If I Ran the Zoo.
Fox is reproducing the legendary Carl Sagan series Cosmos in the Spring 2012 with astrophysicist Neil deGrasse Tyson as host.